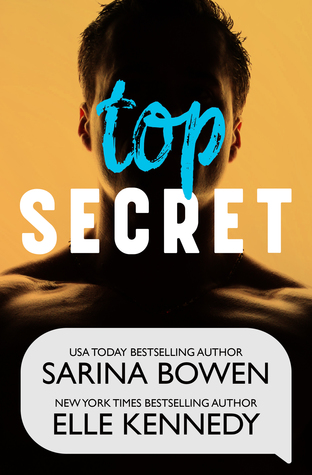 TOP SECRET
by
Sarina Bowen & Elle Kennedy
BLURB
LobsterShorts, 21
Jock. Secretly a science geek. Hot AF.
LobsterShorts: So. Here goes. For her birthday, my girlfriend wants…a threesome.
SinnerThree: Then you've come to the right hookup app.
LobsterShorts: Have you done this sort of thing before? With another guy?
SinnerThree: All the time. I'm an equal opportunity player. You?
LobsterShorts: [crickets!]
SinnerThree, 21
Finance major. Secretly a male dancer. Hot AF.
SinnerThree: Well, I'm down if you are. My life is kind of a mess right now. School, work, family stress. Oh, and I live next door to the most annoying dude in the world. I need the distraction. Are you sure you want this?
LobsterShorts: I might want it a little more than I'm willing to admit.
SinnerThree: Hey, nothing wrong with pushing your boundaries...
LobsterShorts: Tell that to my control-freak father. Anyway. What if this threesome is awkward?
SinnerThree: Then it's awkward. It's not like we'll ever have to see each other again. Right? Just promise you won't fall in love with me.
LobsterShorts: Now wouldn't that be life-changing...
Q&A about Top Secret:
Q: Have we met these characters before in another book?
A: No! These guys are brand new, and we can't wait for you to meet them.
Q: Is this story MM? Or is it a MMF / MFM / menage?
A: This book is MM.
Q: Is this a love triangle story?
A: Not really. You'll see.
🍒 🍒 🍒 🍒 🍒 🍒

🍒

🍒

🍒

🍒

🍒

🍒

🍒

🍒

🍒

🍒
🍒
🍒
🍒
🍒
🍒
🍒
YES
YES
YES!

Authors Sarina Bowen & Elle Kennedy are back with a HUGE Bang!

New MM book, all new characters to love and believe me this book will have you loving the secrets these two have.

Luke & Keaton are amazing.

I loved the humor, sexy times, and that the story is relatable with the present times.

Dating from apps is a thing and these 2 guys bring it to a whole new level.

Super flirty & hot and the lies, angst, and drama bring this story all together perfectly.

Get ready to take a ride on the wild side with these two men that you will leave you fully satisfied.

Must Read #oneclick
**ARC kindly provided in exchange for an honest review***

🍒 🍒 🍒 🍒 🍒 🍒

🍒

🍒

🍒

🍒

🍒

🍒

🍒

🍒

🍒

🍒
🍒
🍒
🍒
🍒
🍒
🍒
Sarina Bowen is the RITA® Award winning author of over two dozen contemporary and LGTB romance novels. She most recently hit the USA Today bestseller's list in February, with Brooklynaire. Formerly a derivatives trader on Wall Street, Sarina holds a BA in economics from Yale University.
Sarina Bowen is a New Englander whose Vermont ancestors cut timber and farmed the north country since the 1760s. Sarina is grateful for the invention of indoor plumbing and wi-fi during the intervening 250 years. On a few wooded acres, she lives with her husband, two boys, and an ungodly amount of ski and hockey gear.
Sarina's books are published in a dozen languages on four continents. In 2016, The Romance Writers of America honored HIM by Sarina Bowen & Elle Kennedy with a RITA award for Best Contemporary Romance, Mid-Length.
ELLE KENNEDY