Don't Speak by Katy Regnery is now LIVE and FREE with #KindleUnlimited!
"Swoon. Sigh. Beautiful, gorgeous love story. You renew my faith in true love, Katy Regnery. And a brilliant take off on the little mermaid. People are going to love this one." --Mia Sheridan, New York Times bestselling author of Archer's Voice
From New York Times bestselling author Katy Regnery comes a new twist on a beloved fairytale.
In this modern retelling of The Little Mermaid, a fisherman's daughter from an Outer Banks island untouched by time, meets the son of the North Carolina governor at a fancy party where she is working. Laire, who wants more from life than her little island can offer, is swept away by wealthy, sophisticated Erik, who is, in turn, entranced by her naiveté and charm. The two spend a whirlwind summer together that ends on the knife-point of heartbreak and forces them to go their separate ways. Years later, when fate finds them together once again, they will discover the terrifying depth of the secrets they kept from each other, and learn that shattered hearts can only be healed by a love that willfully refuses to die. All novels Katy Regnery's ~a modern fairytale~ collection are written as fundraisers. 10% of the e-book sales for in March and April 2017 will be donated.
(Excerpt from DON'T SPEAK, a modern fairytale by Katy Regnery. Inspired by "The Little Mermaid."
All rights reserved.)
"Hey!"
She heard his voice before she saw him.
Had she known the ultimate cost of that simple glance heavenward, maybe she wouldn't have stopped. Maybe she would have just kept on walking with her head down. But fate held no warnings for Laire Maiden Cornish.
Shielding her eyes, she looked up at a deck wrapped around the second floor of the mansion, waiting a moment for her eyes to adjust as he came into view.
There, in the glittering sunlight . . . a boy.
No, a
man
.
A young
man, a little older than she, tall and muscular, with jet-black hair and a square jaw, dark brown eyes, and a deep tan. He wore a robin's-egg blue bathing suit with Kelly green palm fronds in a small repeat and a pair of sunglasses buried in his thick hair. In one hand, he held a phone up to his ear, and in the other, he slowly swirled a glass filled with ice and clear liquid. He stared out at the sound, concentrating on his call.
"Hey!" he yelled. "Can you hear me now?" He huffed with annoyance, pulling the phone away from his ear and squinting at it before trying again. "Pete? It's Erik. Can you hear me?" He set the glass down on the balcony's wooden railing and gave his phone his full attention. Staring down at it, he muttered, "Shit. No reception."
It's Erik.
Erik.
His name is Erik.
Feeling a sharp burn in her lungs, Laire realized she'd been holding her breath and sucked in a huge gulp of air as she stared up at him, frozen in the moment, utterly mesmerized.
She had never seen a more perfect, more handsome person in her entire life.
The sun glinted off his dark hair and wrapped his body in gold, making him appear godlike so very far above her. Were she the type to swoon, Laire imagined she would have been a puddle of goopy longing on the ground below him, content to sacrifice her pride for a glimpse at his beauty.
🍒 🍒 🍒 🍒 🍒 🍒
🍒
🍒
🍒
🍒
🍒
🍒
🍒
🍒
🍒
🍒
🍒
🍒
🍒
🍒
🍒
🍒
I heart the Little Mermaid and this book took that fairytale and gave it the adult content and story that I wanted.
Author Katy Regnery knows how to write twisted, loving spins on fairytales we have all grown up to love.
This is another book in her very imaginative mind that comes to life off the pages.
A Love story of 2 people finding each other after years have past. They find out that love can find its way even through the tough times, the cruel times, the heartwarming times.

And fairytales can come true if you believe in them.
This book makes you believe in Destiny coming to life one wave at a time...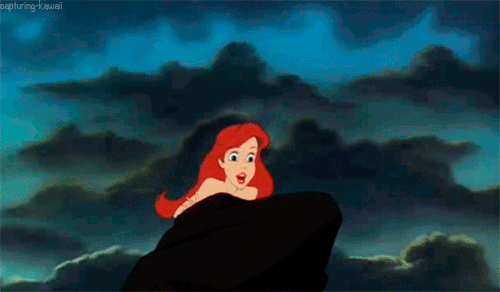 A one Click to another fabulous Fairytale you will love by this Author!
**ARC kindly provided in exchange for an honest review***
🍒 🍒 🍒 🍒 🍒 🍒

🍒

🍒

🍒

🍒

🍒

🍒

🍒

🍒

🍒

🍒

🍒

🍒

🍒

🍒

🍒

🍒

Don't Speak is part of the ~a modern fairytale~ collection, which includes six standalone, completely unrelated novels inspired by beloved fairy tales:
The Vixen and the Vet
(Beauty & the Beast) - available now
Never Let You Go
(Hansel & Gretel) - available now
Ginger's Heart
(Little Red Riding Hood) - available now
Dark Sexy Knight
(Camelot) - available now
Don't Speak
(The Little Mermaid) - new release! Swan Song (The Ugly Duckling) - available late-2017
New York Times and USA Today bestselling author Katy Regnery started her writing career by enrolling in a short story class in January 2012. One year later, she signed her first contract and Katy's first novel was published in September 2013.
Twenty-five books later, Katy claims authorship of the multi-titled, New York Times and USA Today Blueberry Lane Series, which follows the English, Winslow, Rousseau, Story, and Ambler families of Philadelphia; the six-book, bestselling ~a modern fairytale~ series; and several other standalone novels and novellas. Katy's first modern fairytale romance, The Vixen and the Vet, was nominated for a RITA® in 2015 and won the 2015 Kindle Book Award for romance. Katy's boxed set, The English Brothers Boxed Set, Books #1–4, hit the USA Today bestseller list in 2015, and her Christmas story, Marrying Mr. English, appeared on the list a week later. In May 2016, Katy's Blueberry Lane collection, The Winslow Brothers Boxed Set, Books #1-4, became a New York Times E-book bestseller.
In 2016, Katy signed a print-only agreement with Spencerhill Press. As a result, her Blueberry Lane paperback books will now be distributed to brick and mortar bookstores all over the United States. Katy lives in the relative wilds of northern Fairfield County, Connecticut, where her writing room looks out at the woods, and her husband, two young children, two dogs, and one Blue Tonkinese kitten create just enough cheerful chaos to remind her that the very best love stories begin at home.
Website/Newsletter Signup:

http://katyregnery.com/ Goodreads:

https://www.goodreads.com/author/show/7211470.Katy_Regnery Amazon:

http://amzn.to/2dqySsy Facebook:

https://www.facebook.com/KatyRegnery Twitter:

https://twitter.com/KatyRegnery Pinterest:

http://pinterest.com/katharineregner/