Buy Links for this book & all the books in this Series here:
When one Rulebook closes…
Thatch and Cassie have finally found their perfect balance of good and sweet, crazy and playful, and most importantly, hot and insatiable.
But what happens when they're faced with a surprise neither of them plotted or schemed?
While Cassie seems to be taking everything in stride, Thatch can't stop himself Sent from my iPhone every little thing revolving around the woman he loves.
How does a man handle that kind of anxiety?
Doing the only thing he can to ease his mind without pushing away the woman he loves, Thatch proves that once again, when it comes to him and Cass, you'll never see what's coming.
Another Playbook begins…
Wes Lancaster has always followed one guideline for play. He never gets involved with anyone working for his professional football team, the New York Mavericks.
It hasn't been a hard rule to live by.
Until Winnie Winslow, the new take-no-sh*t team physician.
She's beautiful, intelligent—and has no problem taking control of every situation.
She pisses him off. She turns him on.
As tension builds and desire heightens, Wes finds himself wondering how much longer he'll be able to follow his gameplan.
Yes!! We get more Crazy Cassie & Thatcher!!
Seriously I thought these 2 were crazy in the previous book but this just blew the crazy out of the water!
They totally had me laughing & so damn turned on with all the hot freaking sex they were having.
I mean damn! Do couples like this exist??
Where can we find us a man that has the stamina that Thatcher has??
Sign me up!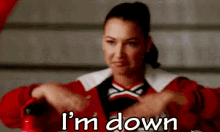 Just Go 1 click this book because you know you want to know what moves Thatcher plays on Cassie and if you can actually do them yourself with your partner in real life!
And yes we get a view of how Wes & Winnie are starting to realize that they both are full of surprises when it comes to what they make out everyone to believe from their outside appearances.
Thank you Max Monroe for always keep my cherries bursting while reading this kick ass series!
Is the next one ready yet because...
No pressure ;)
**ARC kindly provided by author in exchange for an honest review***
🍒 🍒 🍒 🍒 🍒 🍒

🍒

🍒

🍒

🍒

🍒

🍒

🍒

🍒

🍒

🍒

🍒

🍒

🍒

🍒

🍒

🍒
Click link below to enter