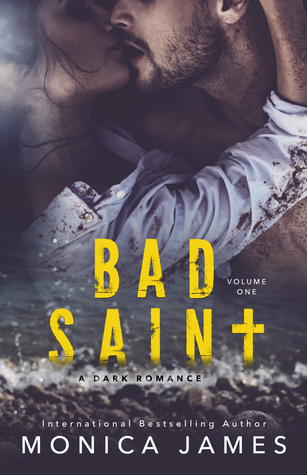 UK
Australia
Canada
🍒 🍒 🍒 🍒 🍒 🍒

🍒

🍒

🍒

🍒

🍒

🍒

🍒

🍒

🍒

🍒
🍒
🍒
🍒
🍒
🍒
🍒
So sinfully delicious is what this book is!
Dark, angsty, super steamy and full of twist and surprises you won't see coming.
Author Monica James brought it hard (pun intended 😈)
I love how she took on the dark side of romance & I enjoyed every minute of it while reading this book.
Willow and Saint will blow your mind! I am still thinking about these 2 characters and wondering where their journey will take them.
I'm chopping at the bit for what Author Monica James will have happen next between Willow and Saint in the next installment.
Be ready to fall hard for the psycho Saint and feel totally sinful for lusting over him like Willow.
One Click it!
**ARC kindly provided in exchange for an honest review***

🍒 🍒 🍒 🍒 🍒 🍒

🍒

🍒

🍒

🍒

🍒

🍒

🍒

🍒

🍒

🍒
🍒
🍒
🍒
🍒
🍒
🍒
Monica James spent her youth devouring the works of Anne Rice, William Shakespeare, and Emily Dickinson.
When she is not writing, Monica is busy running her own business, but she always finds a balance between the two. She enjoys writing honest, heartfelt, and turbulent stories, hoping to leave an imprint on her readers. She draws her inspiration from life.
She is a bestselling author in the U.S.A., Australia, Canada, France, Germany, Israel, and the U.K.
Monica James resides in Melbourne, Australia, with her wonderful family, and menagerie of animals. She is slightly obsessed with cats, chucks, and lip gloss, and secretly wishes she was a ninja on the weekends.