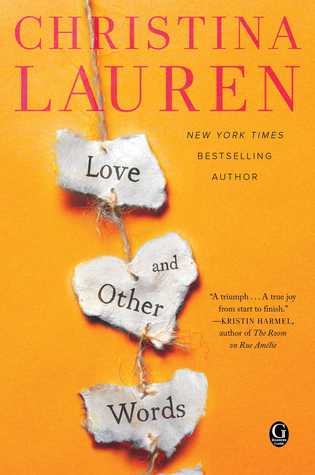 Love and Other Words by Christina Lauren
🍒 🍒 🍒 🍒 🍒 🍒

🍒

🍒

🍒

🍒

🍒

🍒

🍒

🍒

🍒

🍒
🍒
🍒
🍒
🍒
🍒
🍒
Authors Christina Lauren... you broke my heart, in a delightful way.
Swoon factor is off the charts with this book.
Macy & Elliott friendship and how they came to be in love was superb!
This book has many emotional feels to it. You get love, heartbreak, a bit of mystery, tragedy, with a happily ever after.
I enjoyed stepping back and forth with the characters from their past and present lives.
Go Grab this book and fall in love with the words.
**ARC kindly provided in exchange for an honest review***

🍒 🍒 🍒 🍒 🍒 🍒

🍒

🍒

🍒

🍒

🍒

🍒

🍒

🍒

🍒

🍒
🍒
🍒
🍒
🍒
🍒
🍒
Lauren Billings

(but everyone calls her Lo) has a Ph.D. in neuroscience and before she made writing her full-time job, would spend her days doing nerdy research-type things wearing a lab coat and goggles. She is silly Mommy to two littles, wife to one mountain biking homebrewing scientist, bestie to a shoe-stealer, and an unabashed lover of YA and romance.
Christina Hobbs

(but you'll always hear Lo call her PQ) used to spend her days in a junior high counseling office surrounded by teenagers. Married to the cutest boy in school, she has a thirteen year old daughter, is an unapologetic lover of boy bands and glitter, and also likes to steal Lo's shoes.
You can follow their shenanigans at:
For official information about their books, events, interviews, movie news and more, follow @beautifulbastrd.