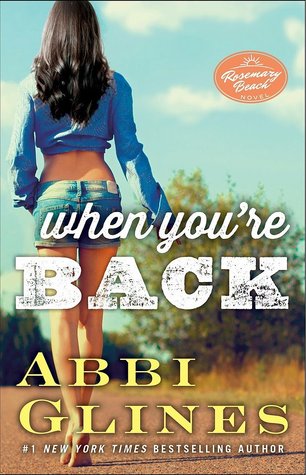 When You're Back by Abbi Glines
BUY LINKS:
Blurb:
The future is bright for Reese Ellis. She has Mase Colt-Manning, the man of her dreams, and a family she didn't know existed until her long-lost father arrived on her doorstep in Rosemary Beach. After growing up with a cruel mother and abusive stepfather, Reese is eager to get to know the caring and charming man who wants to be a part of her life. Everything is finally falling into place.
While Reese is visiting her new family in Chicago, Mase spends time with his "cousin," Aida, who has worshipped him since childhood. Though they're unrelated by blood, Mase and Aida have been raised to think of each other as family. But when Reese returns, she can tell something isn't quite right with Aida, who clearly resents Reese and excels at manipulative little games. And though Mase is unsuspecting, Reese knows Aida doesn't love him like a cousin should…
And we get another wonderful story in this series from Abbi Glines!
What I loved about this book is the friendship that grows into a love between Mase and Reese.
Abbi Glines knows how to write love. She builds up this story with Mase and Reese finally figuring out their relationship and we watch it grow in this book. There were times that I had a hard time with the drama that they kept having because it felt that they could have avoided it but that is what makes a story juicy.
I really enjoyed getting to know Captain in this book and felt he stole a bit of the spotlight from the main characters. I am definitely looking forward to reading more about him in the next book.
Great story, full of love, drama and twists.
**ARC kindly provided by publisher in exchange for an honest review**
New York Times, Wall Street Journal, and USA Today bestselling author of TWISTED PERFECTION, FALLEN TOO FAR, NEVER TOO FAR, JUST FOR NOW, WHILE IT LASTS, BECAUSE OF LOW, BREATHE, THE VINCENT BOYS, THE VINCENT BROTHERS, THE EXISTENCE TRILOGY.