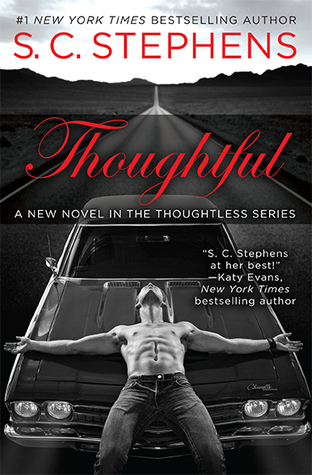 Every story has two sides, and in this new book, the epic love story between Kiera and Kellan is shown through his eyes.
All Kellan Kyle needs is his guitar, and some clean sheets of paper. Growing up in a house that was far from a home, he learned a hard lesson:
You're worthless
. Now his life is comfortably filled with passionate music, loyal band mates, and fast women...until he meets
her.
Kiera makes him ache for more. Makes him feel for the first time that
he's
worth more. But there's one problem - she's his best friend's girl.
Just when Kellan thought his emotional defenses were rock solid, Kiera's indecisive heart wreaks havoc on his soul, changing him forever. Losing Kiera is not an option.
My review is going to be short and sweet.
1st if you have not read the Thoughtless series,
Go read that series 1st before you go to this book. You can read this book alone but to truly appreciate this series, read the original series. It is a fantastic read! I devoured all 3 books in the series in 2 days!
2nd: This book is from Kellan Kyle's POV.
Yes I have been wanting this book which seems like forever BUT,
I felt this gave Kellan Kyle a different look.
It wasn't the same Kellan I fell in love with when I first read this series.
Kellan felt more himself in Kiera POV then in his own.
Now don't get me wrong I loved reading this book and going back to all the fun and hot moments that Kellan & Kiera had. Shoot the book made me even hate Kiera all over again with her torturing Kellan's poor heart.
This book did give us more Kellan Kyle backstory which now gives us more of an understanding of why he is the way he is. There where times I wanted to yell at Kellan to just speak up with Kiera & his feelings! Drove me nuts but then that is Kellan. He loves to do that to us.
Thoughtful brought back my 1st real hardcore book boyfriend crush Kellan Kyle back into my life. I mean he never left but it was a good feeling to read him again.
I am looking forward to reading Griffin's book coming out this Winter 2015 which I know will be a fun and interesting ride.
**ARC kindly provided by the author in exchange for an honest review**
S.C. Stephens is a New York Times and USA Today bestselling author who enjoys spending every free moment she has creating stories that are packed with emotion and heavy on romance.
Her debut novel, Thoughtless, an angst-filled love triangle charged with insurmountable passion and the unforgettable Kellan Kyle, took the literary world by storm. Amazed and surprised by the response to the release of Thoughtless in 2009, more stories were quick to follow. Stephens has been writing nonstop ever since.
In addition to writing, Stephens enjoys spending lazy afternoons in the sun reading fabulous novels, loading up her iPod with writer's block reducing music, heading out to the movies, and spending quality time with her friends and family. She currently resides in the beautiful Pacific Northwest with her two equally beautiful children.